HYPERBLAST! (1983)
[English Software]
32K Cassette/Disk
Designer: John P. Brierley

(Text from Rear of Cassette label):
Defend your computer against TEN waves of flying, diving creatures including SPIDERLINGS, XILLICKS, ZOOMERANGS and many, many more! Real arcade-action with superb graphics make HYPERBLAST! one of the best ONE or TWO player games ever!
Joysticks required.

REVIEW by AtariGrub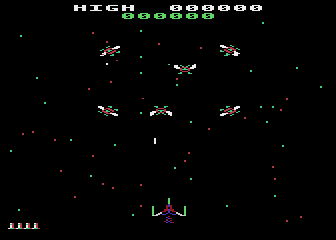 Hyperblast! is a space shoot'em up in the vein of Galaxian and Phoenix. You must blast your way through Ten waves of Alien Creatures and Craft from Fireflies to Fuel Ships. Each Wave consists of 6 aliens that weave individually around the screen, constantly changing direction and occasionally dive-bombing your craft. To make things harder, destroying an alien results in a rain of missiles falling from the wreckage of your target. Only by continually dodging and shooting will you be able to space warp to the next wave and only after you've destroyed each set of aliens 10 times!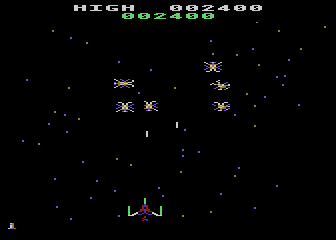 Your spaceship fires one centre missile, followed by two side missiles, which with constant fire button pressing results in a heavy barrage of firepower. The controls (left and right, plus fire) are quite responsive and the speed of the action along with the sound effects make this game an enjoyable experience. The game can be played with one or two players, each taking turns to blast away the alien threat. The maximum score possible is 999,000 with an extra life (you start with 5) after each 10,000 points.
In my opinion, this is one of the best Shoot-Em Ups on the Atari 8-Bit Computers.
"A Blast!"
(8/10)
GAME TIPS

Try to shoot off as many missiles around the centre of the screen, before each set of aliens appears. That way it's possible to take out half of their squad just as they materialize.


CREATURE WAVES
| | | |
| --- | --- | --- |
| | FIREFLIES | (Wave One) |
| | FIGHTERS | (Wave Two) |
| | SPIDERLINGS | (Wave Three) |
| | SAUCERS | (Wave Four) |
| | KRUNKS | (Wave Five) |
| | QUADROPODS | (Wave Six) |
| | XILLICKS | (Wave Seven) |
| | ZOOMERANGS | (Wave Eight) |
| | SPACE SNAKES | (Wave Nine) |
| | FUEL SHIPS | (Wave Ten) |

CLICK HERE to Download an Unlimited Lives file for use in the Atari 800Win Emulator.



SIMILAR GAMES:
In 1979 Namco released the Arcade Game 'Galaxian', a successor to the highly successful Space Invaders. Galaxian added to the basic template of shoot-em-ups by having individual aliens leave the main horizontal crawling group and fly down to attack your craft at close range. Unlike Space Invaders, Galaxian had no shields to hide behind, thereby making for a more frantic game.
Phoenix followed in 1980, with the addition of a mothership at the end of the level (an early End of Level Boss!). Hyperblast! probably has the most similarity to Phoenix, with both games featuring hyper space jumps between each alien wave and also the end of game music in Hyperblast! is very reminicent of the beginning music in Phoenix.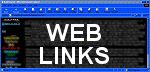 GALAXIAN- Recommended Links:
Unoffical Galaxian Homepage
[Everything you ever wanted to know about Galaxian]
www.galaxian.tmfweb.nl/
Killer List of Video Games (KLOV)
[Information on the Galaxian Arcade game]
www.klov.com/G/Galaxian.html

Playable JAVA version of the Galaxian Arcade game
web.utanet.at/nkehrer/JGalaxian.html

PHOENIX - Recommended Links:
Killer List of Video Games (KLOV)
[Information on the Phoenix Arcade game]
www.klov.com/game_detail.php?letter=P&game_id=9004
Playable JAVA version of the Phoenix Arcade game
web.utanet.at/nkehrer/JPhoenix.html