Below is a brief section on each of the Atari Cave members:


AtariGrub
Atari Cave Web Designer & Reviewer
Age: 32


Computer/Console History
Atari 2600 (Played in early 80s, then bought an old one off Ebay in 2002)
Mattel Intellivision (Owned/played in early 80s)
Atari 400/800XL/130XE (Owned/played in early 80s to present day)
Atari 520STE (Owned/played in late 80s/early 90s)
Super Nintendo Entertainment System (Played in 90s)
Nintendo Gamecube (2002 - Played still today)
Atari 7800 (Bought off ebay in 2002)
Colecovision (Bought off ebay in 2002)
PC (AMD XP1500, 512MB RAM, 80GB H/Ds, Sapphire ATI Radeon 9600XT 256MB, SonicFury 6-Channel Sound)
Current favourite Games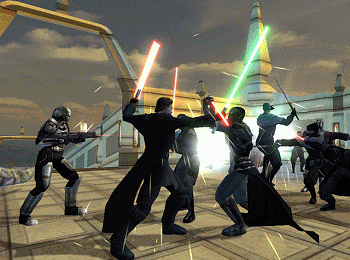 Star Wars:Knights of the Old Republic II - The Sith Lords (PC)
Sequel to the fantastic Star Wars role-playing game, this time your game choices affect the light/dark side affiliation of your companions too.
www.lucasarts.com/games/swkotor_sithlords

The Incredible Hulk - Ultimate Destruction (GameCube)
Release some aggression in this free-roaming (à la Grand Theft Auto) romp as Bruce Banner utilises his alter-ego to gather machine parts in the hope of finding a cure to his transformations.
www.hulkgames.com

Prince of Persia - Warrior Within (GameCube)
First sequel to the brilliant platform-action game, in which the Prince is being pursued by the immortal Dahaka, for his creation in a rift in the timeline. Only by travelling back in time and stopping the creation of the Sands of Time, can the Prince find peace once more.
www.princeofpersiagame.com/us/ww/home.php

Favourite Atari 8-Bit games
Bruce Lee (Platform)
Lords of Time (Adventure)
Alternate Reality – The Dungeon (RPG)
Mercenary (Adventure/Simulator)
The Hitch-Hikers Guide to the Galaxy (Adventure)
Some of my Favourite Movies
Star Wars - Episode V:
The Empire Strikes Back (1980)
Once Upon a Time in the West (1968)
A Clockwork Orange (1971)
Almost Famous (1996)
Interests
Atari 8-bit games
Star Wars
Movies
Video Editing
Recent Recommendations
Doctor Who (TV/DVD)
Star Wars: Revenge of the Sith (DVD)
The Incredible Hulk:
Ultimate Destruction (GameCube)

Phoenix Otaku
Atari Cave Reviewer
Age: 22


Computer/Console History
Sega Master System (acquired cheaply with games, not played for long!)
Atari 1040STFM (recently acquired for nothing at a boot fair, fully working!)
PC (AMD XP2800+, 512MB RAM, 160GB H/D, Asus ATI Radeon 256MB 9800XT, Soundblaster Audigy 5.1 Sound)
Current favourite Games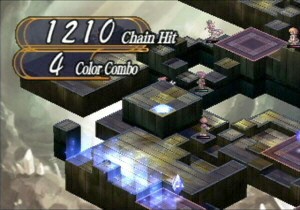 Icewind Dale II (PC)
A fairly old, but good RPG, made by the Baldur's Gate team and using the D&D rules.
Battlefield 1942 (PC)
One of the best First Person Shooter games, and the best war FPS at the moment.
X2 - The Threat (PC)
A great game, a modern remake of the 80's classic Elite.
Disgaea (PS2)
Fantastic game, sort of using the same system as Final Fantasy Tactics. Great humour.


Favourite Atari 8-Bit games
S.S.Achilles (Action/Strategy)
One Man & His Droid (Puzzle)
Lode Runner (Platform)
Montezumas Revenge (Platform)
Some of my
Favourite Movies
Battle Royale (2001)
Edward Scissorhands (1990)
Full Metal Jacket (1987)
Snatch (2001)
Stand By Me (1986)
Interests
Anime & Manga
Guitar
Role Playing Games
Japanese
Reading & Writing
Games Workshop
Recent Recommendations
Naruto (Anime Series)
Cowboy Bebop (Anime Series)
Bleach (Anime Series)
Asian Kung-Fu Generation
(Japanese Indie Rock Band)
Welcome To The Jungle
(Movie starring The Rock; Sean William Scott)

Nightcrawler
Atari Cave Reviewer
Age: 30

Computer/Console History
Atari 2600 (Played)
Mattel Intellivision (Own)
Atari 400/800XL/130XE (Owned/played in 80s)
Atari 520STE (Own)
Sega Master System (Played)
Super Nintendo Entertainment System (Own)
N64 (Played)
Gameboy (Own)
Playstation (Played)
Playstation 2 (Played)
Nintendo Gamecube (Own)
Nintendo Game Boy Advance SP (Own)
PC (AMD Athlon 64bit 3200+, 1GB RAM, 160GB SATA H/D, Gigabyte ATI Radeon X800 256MB, 5.1 Sound)
Current favourite Games



F.E.A.R. (PC) - The scariest and eeriest heart jumping first person shooter ever! That little girl just freaks me out!!! 18 rated for a reason!
www.whatisfear.com

X-Men Legends 2 (GameCube) - The X-Men are back! But this time they have the Brotherhood of Evil Mutants on their side to fight the coming Apocalypse!
www.xmenlegends2.com
Favourite Atari 8-Bit games
Bruce Lee (Platform)
Zorro (Platform)
Bounty Bob Strikes Back (Platform)
Mercenary (Adventure/Simulator)
Some of my Favourite Movies
Star Wars (all of them)
The Incredibles (2004)
X-Men 2 (2003)
The Shawshank Redemption (1994)
Saving Private Ryan (1998)
Interests
All format games
Marvel Comics
Football
Movies
Money
Recent Recommendations
Invasion (TV series)
Lost (TV/DVD)
F.E.A.R. (PC)
Firefly (DVD, cancelled TV series)
Millennium (90's TV series on DVD)