AIRWOLF (1984)
[Elite]
48K Cassette
Programming: Trevor Perks & Richard Wilcox
REVIEW by AtariGrub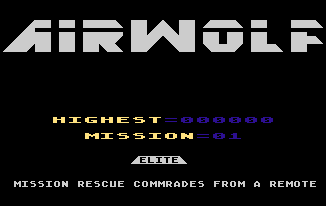 Cast your mind back to the early-mid eighties. It was a time of crime-fighting vehicle-orientated television shows such as Knight Rider, Street Hawk and of course Airwolf! For those who don't remember, Airwolf was a super high-tech helicopter piloted by Vietnam veteran Stringfellow Hawke. Each week Hawke would pilot Airwolf in order to fight the bad guys, rescue the good guys or just avoid the 'star of the show' (the helicopter) from falling into the wrong hands.
The Airwolf game for the Atari 8 bit computers was originally programmed under the title Blue Thunder. This was the film that perhaps inspired Airwolf, and in fact was turned into a television series as well, although less successful than Airwolf. Unfortunately, the game has changed little from its Blue Thunder origins, with the helicopter graphic still coloured blue and its shape bearing no resemblance to the Airwolf from the TV series.
As pilot of Airwolf, your mission in the game is to rescue five scientists being held hostage on a remote island. To reach each scientist you have to avoid defences including land and sea missiles, plus in later levels - electric storms and armoured barrage balloons. The scientists are protected by a shield, which can only be opened by destroying the control box, located behind its own defensive barrier.
There are five levels in all, with the first four selectable from the main title screen. Each level is made up of the same terrain, but with an increasing number of obstacles and enemies. By the last level, you must travel at night with lightning and the full enemy arsenal to contend with.
I can't help but compare Airwolf to the classic Atari helicopter game Fort Apocalypse (1982 - Synapse Software), which had better sound effects and above all manoeuvrability. Now I know they are two different kinds of helicopters, but I'm sure Airwolf (Blue Thunder) would be able to move faster and handle better than it does in this game. You have the ability to shoot and drop bombs, but this has no effect on gun turrets, balloons or submarines.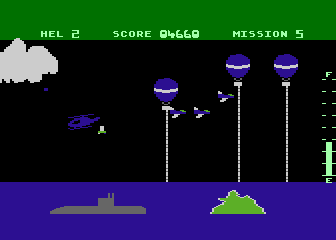 What makes the game particular hard on later levels is lack of fuel, which runs out pretty quickly whilst you're dodging the various obstacles, including clouds and balloons. The only place to get more fuel is the enemy prison, with not even a drop of fuel apparently available on your home battleship. It would have been nice to refuel halfway through the level, and conveniently there is a landing area next to a hanger in the game, which doesn't seem to have any purpose in the game. Maybe that was the plan of the programmers all along, but they forgot to implement the refuelling option?
When you finally land to pick up a scientist, a strange bug is discovered - as a never ending stream of men enter your craft, although you only ever rescue one at a time! Overall, a poor attempt at a Fort Apocalypse clone, which feels unpolished and would have been better if you could actually destroy the guns, balloons or submarines.
"Fwooop! Fwooop!"
(5/10)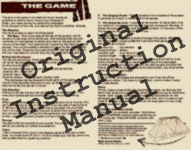 GAME TIPS

Your fuel will start to deplete as soon as the Mission begins, so don't wait around!
Submarine sea-to-air missiles, Land-to-air missiles and Jet Fighters are the only targets which can be destroyed by your shots.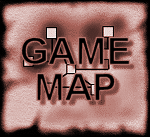 CLICK HERE to Download an Unlimited Lives file for use in the Atari 800Win Emulator.



Alternate Covers:






Encore (1984)
48k Cassette

(Text from Rear of Cassette label):
Game Features
REALISTIC SIMULATION OF
HELICOPTER CONTROL
SUPERB GRAPHICAL
REPRESENTATIONS
FRANTIC ARCADE ACTION
L.S.A. (LARGE SCALE
ANIMATION)
FULL GRAVITY AND MOMENTUM
WITH 64 DIRECTIONAL
SMOOTH SCROLL

Other Versions:
The version of Airwolf released for the Atari 8bit Computers, was released under its original title Blue Thunder for the ZX Spectrum and Commodore 64 by Richard Wilcox Software. A dedicated version of Airwolf was then released for both systems by Elite. In 1987, Kyugo released a pretty good Airwolf side-scrolling shoot-em-up as an Arcade machine, this included the excellent theme tune. The most recent Airwolf game released was for the NES (Nintendo Entertainment System) in 1988.
BLUE THUNDER (1984) - Commodore 64 Version
AIRWOLF (1985) - Commodore 64 Version
AIRWOLF (1987) - Arcade Version
AIRWOLF (1988) - Nintendo Console Version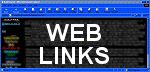 Helicopter Fansite
(An A-Z of Helicopter appearances in TV and Film)
www.rotaryaction.com/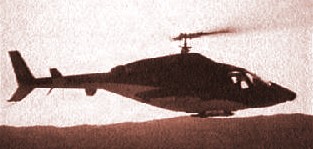 Airwolf Fansite
(TV Episode Guide, Multimedia, Forum, etc)
www.airwolf.org/

The Ultimate Airwolf Episode Guide
(Lots of Pictures, plus an Episode Guide and Audio Clips)
www.geocities.com/aiwe1984/

Killer List of Video Games (KLOV)
[Information on the Airwolf Arcade game]
www.klov.com/game_detail.php?letter=&game_id=6836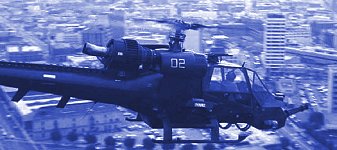 A Blue Thunder Fansite
(Information on the Movie and TV Series)
airwing.uplink.com.au/bluethunder/
An Unofficial Blue Thunder Website
(Pictures and Information on the Movie, TV Series and Merchandise)
www.gregdonner.org/blue_thunder/blue_thunder.html
The Internet Movie Database
(Full Cast&Crew list, plus information on the Blue Thunder movie that starred Roy Scheider)
www.imdb.com/title/tt0085255/